Every year, most Americans experience a pay cut.
Just an hour outside of Boston, where I sometimes fly fish, I drive through very poor, rural, and white towns. I drive by trailer parks, through small towns with almost no economic activity, and into areas with high heroin addiction rates.
To better understand what is happening in those areas, I'd like to show you five charts.
1. After-inflation pay for males has been in decline for decades.
2. Pay for males is lower the less education they've attained, and, that also has been in decline over time. 
3. Female wages have been the reason why households have been able to get by. More women have entered the workforce, and their wages have been rising.
4. Unfortunately, the percentage of dual-earner households has hit a saturation point.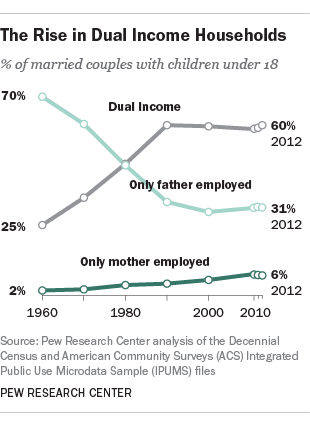 5. All this means the following: after-inflation pay for households has been in decline.
So, many Americans are very open to a politician's sales pitch that tells them that their economic decline is not their fault.
It's why Sanders and Trump have defied conventional wisdom and continue to poll well. The former wants to redistribute income ("tax the rich"). The latter wants to do that, but also embrace protectionist policies ("immigrants take our jobs" and "cut better trade deals").
Wages need to increase for the bulk of the population. Since 60% of Americans do not have a college degree, that means wages need to increase for those who are not living in cities, who are not part of the technology economy, and aren't constantly on smartphone apps.
We either increase income for many Americans through a redistribution from the rich to the poor, or we strive to create an economy that does not increasingly concentrate wealth for those in the tech and finance sectors.
There really is no other option, or social unrest will grow.